Professional Pest Control For Holliston, MA Properties
Founded in 1724, the town of Holliston, MA, is a beautiful place located at the head of Boston Bay. Over the years, Holliston has grown into a large community of around 15,000 people, and as our human population grows, so do our local pest populations. Holliston property owners are exposed to pest infestation all year long, and the best way to guard your property and those inside it is to contact your local pest professionals. Here at Freedom Pest Control, we're here to protect you with quality Middlesex County pest control.
We are a veteran-owned and operated company that provides the best possible pest control services throughout Holliston and the surrounding areas. Through the use of sustainable practices and continued education, we're able to protect the community from pest infestation, servicing homes and businesses throughout Middlesex County and the surrounding areas.
Whatever pest problem you're facing, you're not in it alone. "Let us get them before they get you!" Call today for your free, no-obligation quote.
Home Pest Control In Holliston, MA
If you're looking for complete home pest protection, you've come to the right place. Freedom Pest Control is proud to have serviced over 900 local homeowners with residential pest solutions. Since 1994, our company has operated under the following vision statement:
To strive to provide the best possible service
To provide innovative pest management solutions with friendly and caring customer service
To maintain deep roots in the community and give back to the environment
We use I.P.M. (Integrated Pest Management) best practices to treat pests with the least toxic methods possible. Our goal is to serve customers with the most advanced pest technologies and environmentally sustainable practices. Contact us today for your free estimate, and we'll get the ball rolling.
Ant Prevention Tips Holliston Residents Should Know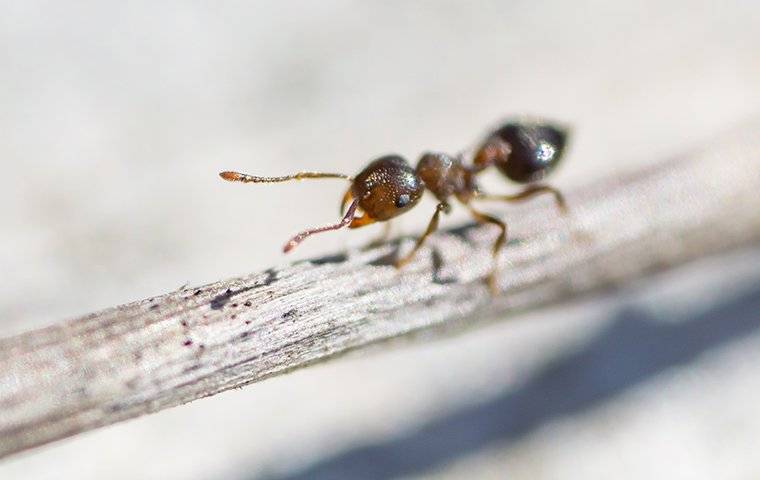 When it comes to effective ant control for your home, it's a good idea to be proactive in your prevention efforts. By taking precautions, you can minimize their incentive to infest and reduce their entry methods. Here are some ant prevention tips Holliston residents should know:
Eliminate standing water and excess moisture around the home.
Fix torn door screens and window screens so that pavement ants can't gain entry.
Get rid of wood or debris stacked or piled up near the house.
Maintain cleanliness, like cleaning up food and keeping food sealed tight.
Regularly take out the trash and store it in a tightly sealed garbage can.
Trim back any grass, bushes, and vegetation near the house.
While it's always a good idea to be proactive, there's still no method of ant control as reliable as professional pest control services. The team at Freedom Pest Control has experience dealing with common area ants, and we're ready to tackle your ant problem, whatever it may be. Reach out to us today to get started.
Are Termites A Year-Round Problem In Holliston?
Termites are dangerous pests that seriously threaten the structural integrity of your property over time. As cellulose-feeders, termites feed on common materials that make up the structure of our homes and businesses. They eat away at moisture-damaged wood around your property and erode the construction, making it an unsafe environment.
Some may warn you of "termite season," but it's important to be wary of these pests all year long. Not only is termite damage a huge risk to your safety, but it's also a big financial threat. The damage can be very upsetting, costing you thousands of dollars in repairs. What's worse is that most homeowners' insurance plans don't cover termite damage.
Termite damage can be very costly. The N.P.M.A. (National Pest Management Association) estimates that U.S. home and business owners spend around five billion dollars every year on termite repair and prevention costs.
There's no doubting the fact that termites are a year-round problem in Holliston. That's why local property owners need to protect themselves with professional pest solutions. Reach out to the experts at Freedom Pest Control for all your termite control needs.
Commercial Pest Control In Holliston, MA
We've serviced over 450 commercial facilities here at Freedom Pest Control, including properties such as food storage industries, schools, universities, restaurants, offices, multi-unit apartments, food processing plants, and hospitality. Our Associate Certified Entomologists design customer treatment programs that cater to the needs of each business because we know that no two infestations are ever the same.
We specialize in commercial I.N.T.R.A.P. service (Intelligent Real-Time Alert Program), a state-of-the-art program to monitor your facility and alert us of activity. It's an industry-leading software that tracks past pest issues and guarantees we complete all treatments to remove the threat of pests.
Our QualityPro staff is highly trained, and we are dedicated to your complete satisfaction every step of the way. Reach out today to learn more about our commercial pest services.