Professional Pest Control For Sandown, NH Properties
Located in Rockingham County, Sandtown is a small community known for its historical architecture and celebrations. It's also located deep within the rural woodlands of The Granite State, making Sandtown a lovely bedroom community for those looking to explore the many recreation options available in New Hampshire. But rural areas are right in the middle of the natural environments that pests tend to thrive in, so local property owners need to be vigilant when it comes to preventing and quickly clamping down on pest infestations. Learn how you can do that with the help of Freedom Pest Control.
Home Pest Control In Sandown, NH
No one wants a pest infestation in their home, but many more people fall victim to common pests than we tend to realize. Even if they've never happened to you before, all homes are at risk for pest infestations. And, really, you may have had them or currently have them and simply never noticed. That's why residential pest control offered by pest experts can provide you with the best protection against an infestation in your Sandtown home. Here is how Freedom Pest Control can assist you:
Inspection: Our inspection process is designed to be thorough and informative. We not only use the results to craft a pest control plan that's right for you, but we also provide you with helpful insights and tips that make you better at avoiding pests and the factors that attract them.
Treatment: Next is our comprehensive treatment process. Whether you need general protection, targeted specialty treatments for serious pests, or just preventative care, we offer plans that cover all your needs.
Follow-up: Even after our comprehensive approach is done, we're still not done caring for your property. We always check back with you a little while after our initial visit, making sure the pest concerns are adequately addressed and actually staying gone.
Seek residential pest control from experts you can trust by contacting Freedom Pest Control today.
Protecting Your Sandown Home From Dangerous Termites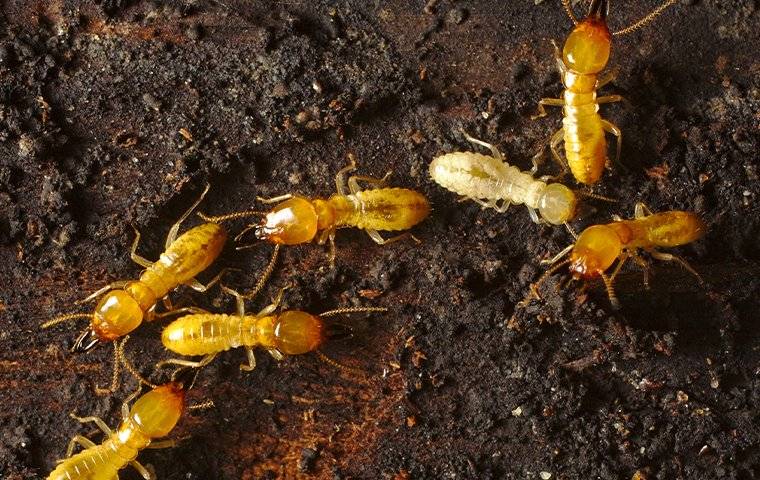 Termites are some of the most damaging pests that can hit your home. They chew through structural woods and can even lead to hazardous collapses if not taken care of quickly. Termite damage isn't something you want to risk, which is why it's important to partner with pest experts who can keep your property protected.
Only professionals know how to spot the earliest signs of termite activity -- before they have a chance to lead to serious, expensive problems. The seriousness of termite damage is one of the clearest examples of why trying to monitor and eliminate pest problems all on your own can be a serious mistake. Average homeowners don't know what to look for, let alone how to apply the right treatments in a way that will thoroughly address the entire termite colony. Don't try DIY. Instead, turn directly to the pros at Freedom Pest Control. Contact us today to get started on a comprehensive inspection of your property.
A Step-By-Step Ant Prevention Guide For Your Sandown Property
Ants aren't just inconvenient, they can be as dangerous and destructive as other pests we tend to think of as more serious. From carpenter ants that cause property damage to fire ants that can cause tremendous pain, common ant species include far more than just sugar ants and pavement ants. That's why you should take the following steps to reduce your risk of ants:
Food Storage: Ants' antennae can detect chemical traces of food no matter if it's a crumb, a trace of food that's already been cleaned up, or stored packaging.
Trash Storage: You also need to take care with trash storage, because ants can find all their sustenance within your trash cans.
Crack Sealing: Ants can fit through tiny cracks or holes, so you need to address them quickly if you spot any around your walls and foundation.
Don't let carpenter ants or other serious ant species invade your property, contact the experts at Freedom Pest Control today.
Commercial Pest Control In Sandown, NH
While you're busy worrying about maximizing your profits and expanding your operations, pest infestations can form without you even realizing it. As pests move into a business, they thrive off the food, water, and shelter that can be found on commercial properties. The more a pest population grows, the more it can lead to property damage, health hazards, and a loss of reputation in your community. This is why Sandtown business owners need to invest in commercial pest control that protects them from these serious side effects of an infestation. Here are just some of the properties that Freedom Pest Control can help with:
Restaurants: Businesses, where food is stored, cooked, and consumed -- not to mention thrown away --, can be absolute magnets for pest populations.
Offices: Even offices have employees who must eat meals. Plus, offices tend to have lots of storage spaces and furniture around for pests to infiltrate.
Warehouses: Speaking of storage spaces, warehouses tend to be nothing but. That means even properties that don't store food or other clear pest attractant products can fall victim to their populations.
Don't take a chance on pests in your business, turn to Freedom Pest Control today for commercial pest control that actually works.